LabTrendsSM Hospital Laboratory Comparative Program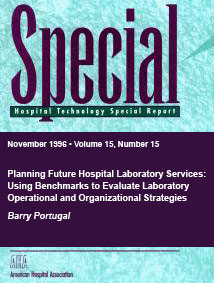 Benchmarking hospital laboratory performance is essential to the operational and organizational decision-making process. The right data, correctly analyzed, will provide valuable insights that can lead to greater productivity, cost-effectiveness, and outcomes measurements.
LabTrendsSM provides you with the information you can count on. LabTrendsSM information was featured in a special report published by the American Hospital Association.
More effective benchmarking

The LabTrendsSM program is unique in determining groups of hospitals for comparison purposes. While test volume, teaching vs. non-teaching status, and the operational characteristics of the laboratory are always used as tabulation criteria, LabTrendsSM goes further to provide more user specific comparisons. For example, LabTrendsSM is the only comparative program that considers service demands, case mix acuity, and extent of pathologist compensation as performance indicators. We believe these data elements help provide a more meaningful comparison of overall laboratory performance.
Equivalency in Test Counts

We have found that hospital-specific differences in billed test volume can account for a ±15% to ±34% variation from one hospital to the next. LabTrendsSM utilizes "performed test" counts as the basis of establishing parity in comparisons. Our copy-righted and decades-proven counting methodology assures LabTrendsSM subscribers of accurate comparative information. This process recasts "raw billed test count" into a standard unit of measure.
Test Utilization Management

LabTrendsSM is the only hospital laboratory comparative program that generates comparative test utilization information based on case mix acuity, as well as teaching/non-teaching status. LabTrendsSM reports generate utilization benchmarks for number of tests per inpatient day, per discharge, and the number of outpatient tests per outpatient visit.
Take the first step towards greater productivity, cost effectiveness, and outcomes management. Just fill out the form below to learn more about the LabTrendsSM Hospital Laboratory Comparative Program.
Request LabTrendsSM Information